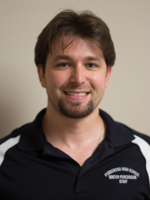 Josh has been an instructor, clinician, arranger and caption head for marching percussion ensembles since 2004. Josh has a wide range of experiences having worked with ensembles spanning middles school through college as well as Drum and Bugle Corps, most notably; C.K. McClatchy High School (Instructor/Caption Head/Arranger/Show Designer), The Sacramento Mandarins Drum and Bugle Corps (Bass Drum Technician/Battery Visual Instructor) and the Sacramento State Marching Band (Instructor/Caption Head/Arranger/Show Designer).
Josh received his Bachelor of Music in Music Education, as well as his Teaching Credential, from Sacramento State University. As a performer, Josh has had the privilege of learning form top tier musicians and educators, such as; Brian Aguilar, Christina Alsop, Ryan Bruner, Roger Carter, Chris DaPrato, Dr. Leo Eylar, Dr. Chris Froh, Rudy Garcia, Dr. Robert Halseth and Dr. Daniel Kennedy.
Josh's strength is in his teaching. Josh prides himself on his ability to quickly develop quality ensembles, as well as inspire students to constantly strive for their best performance and keep them coming back for more. As an arranger, Josh's battery writing combines all the excitement of a marching ensemble, with the musicality of a concert ensemble, thusly creating a musically enriching voice to band/percussion arrangements while keeping the performers engaged and challenged.
Josh is currently on the Vic Firth Education team, a member and adjudicator for the Northern California Band Association, as well as a member of the professional organizations NAfME, CMEA, and the PAS.
Pieces by Joshua Luedtke that are available on MartianMusic.net:
Things That Go Bump in the Night