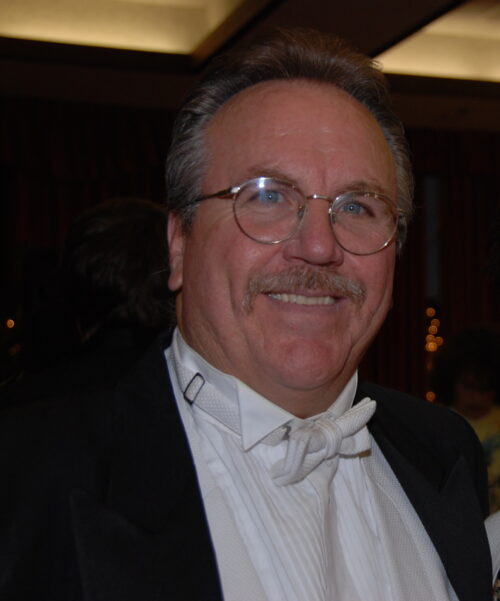 "When I was young, our house was always filled with music. From pop music, to Big Band, something was always playing on the stereo. In high school I was introduced to the Concord Blue Devil Drum and Bugle Corps and for the next 4 years I traveled and performed with this group. I then spent 3 years at Los Medanos College, performing in the Instrumental Ensembles.
"I attended California State University at Hayward where I majored in Trumpet Performance and Composition. During my senior year at C.S.U. I was lucky enough to audition for Dr Roger Nixon, at San Francisco State University. I attended, and received my Masters Degree in the Arts, with an emphasis in Musical Composition.
"My first teaching position was at Clayton Valley High School in Concord. I had the pleasure of following in the footsteps of my High School Band Director, Len Walker. After three years, I accepted a full time music teaching position for the Napa Valley Unified School District as the Vintage High School Instrumental Music Director- I held this position from 1986 until 2017 when I retired. During my time at Vintage High School, I was also an adjunct professor at Napa Valley College where I taught Music Appreciation, Guitar, and Wind Ensemble.
"Over the years, I have created many musical compositions & arrangements. Some of my Chamber, Symphonic, Orchestral, Marching Band, and Jazz Band pieces have been performed throughout Northern California. I am currently transcribing my compositions and many of them can be found on my website, www.ganttmusic.com
"I am on the Board of Directors and Advocacy Chairperson for the Arts Council Napa Valley. I continue to perform, playing trumpet with the Napa Valley College Wind Ensemble and the Generation Gap Big Band, based in Vallejo, California." – William Gantt
1974: Graduated Clayton Valley High School. Concord Ca.
1973-1976: Performing member with the Concord Blue Devils Drum & Bugle Corps
1977: Graduated Los Medanos College and received AA/GE Degrees.
1979: Graduated with BA From Ca. St. Univ. Hayward in Performance/Composition/Education.
1983: MA Degree in Theory and Composition from San Francisco St University
1986-2017: Instrumental Music Director, Vintage High School, Napa Ca.
2004-2014: Napa College Jazz Director
Here are the pieces by William Gantt that you can find on MartianMusic.net:
Kaleidoscope
Pathway
Contemplation
This Too Shall Pass
In Motion
Ghost Light